Communicating an Urgent Change
There are times that require an IT change be put in place rapidly. Providing notice to end-users must have both brevity and clarity. Here are the 6 elements to include.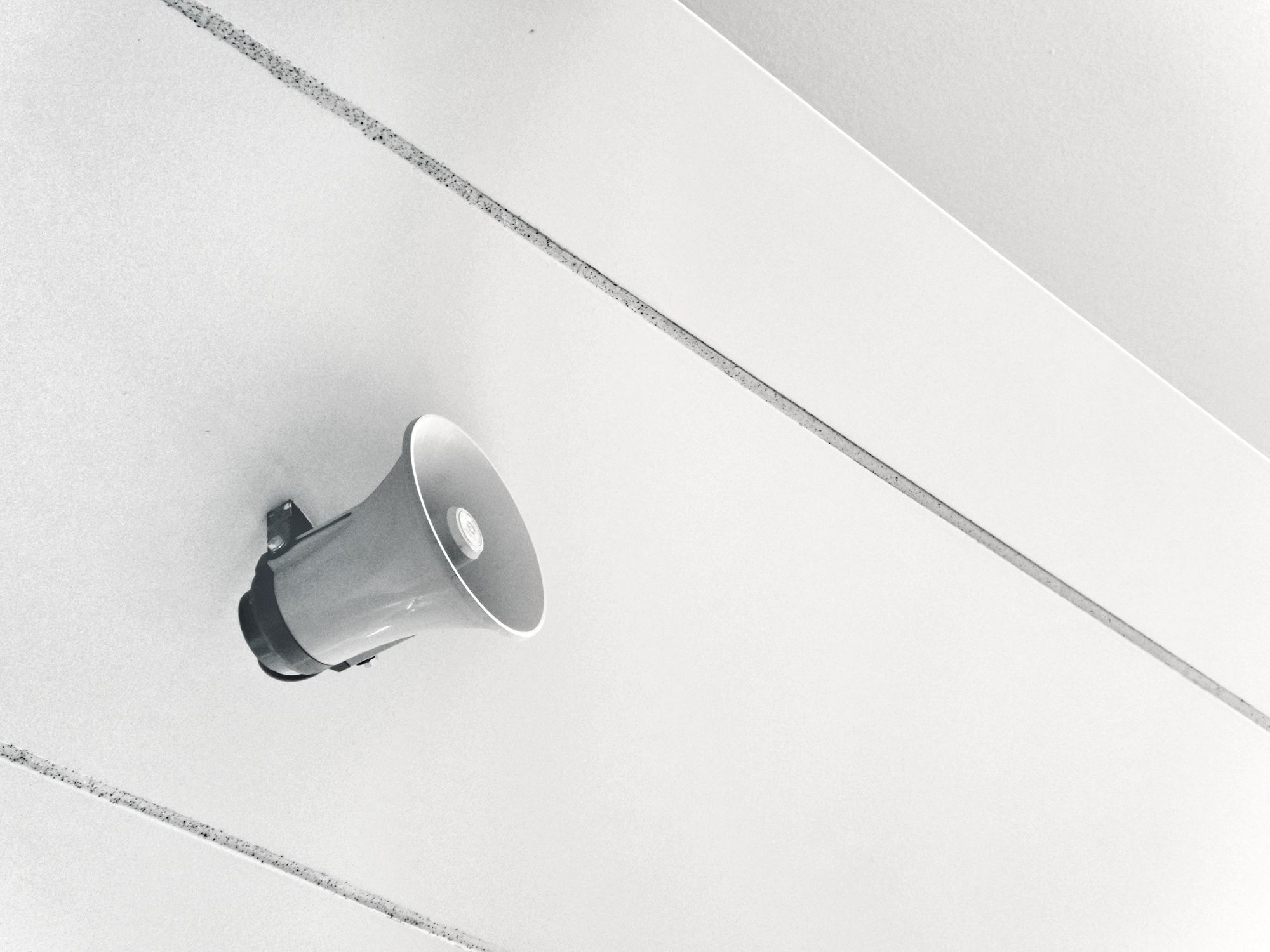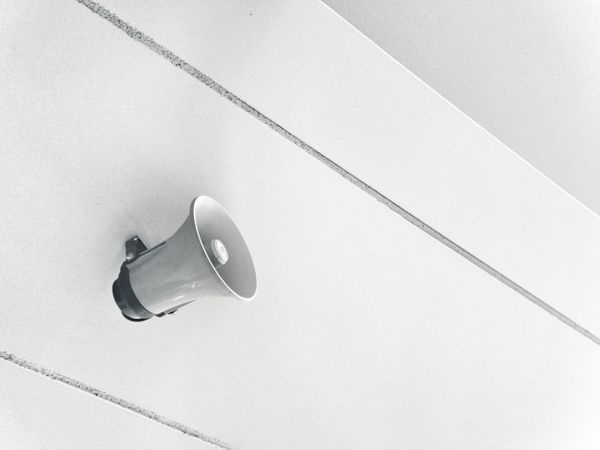 One thing that is always constant in healthcare technology is change. Most changes leave us with enough time for planning communication and necessary training.  But, some must be done  urgently. Leaving little time for communication.
The message details for these urgent changes is critical. Especially in situations requiring end-user actions. As well as those where adoption of a new workflow must occur quickly. For example, changes such as a break-fix, new regulatory requirements, or an evolving public health emergency.
How to Draft the Notification Message
The structure and content of urgent change messaging is important. There is often a very short turnaround time which limits the approach. It may not be possible, or desirable, to follow the standard change management communication processes in place. With a reduced time between notification and the implementation, you may need more succinct messaging.
To ensure that a change message can be quickly consumed and easily understood by end-users, there are a things to include. The list below outlines the key components to include when communicating urgent changes.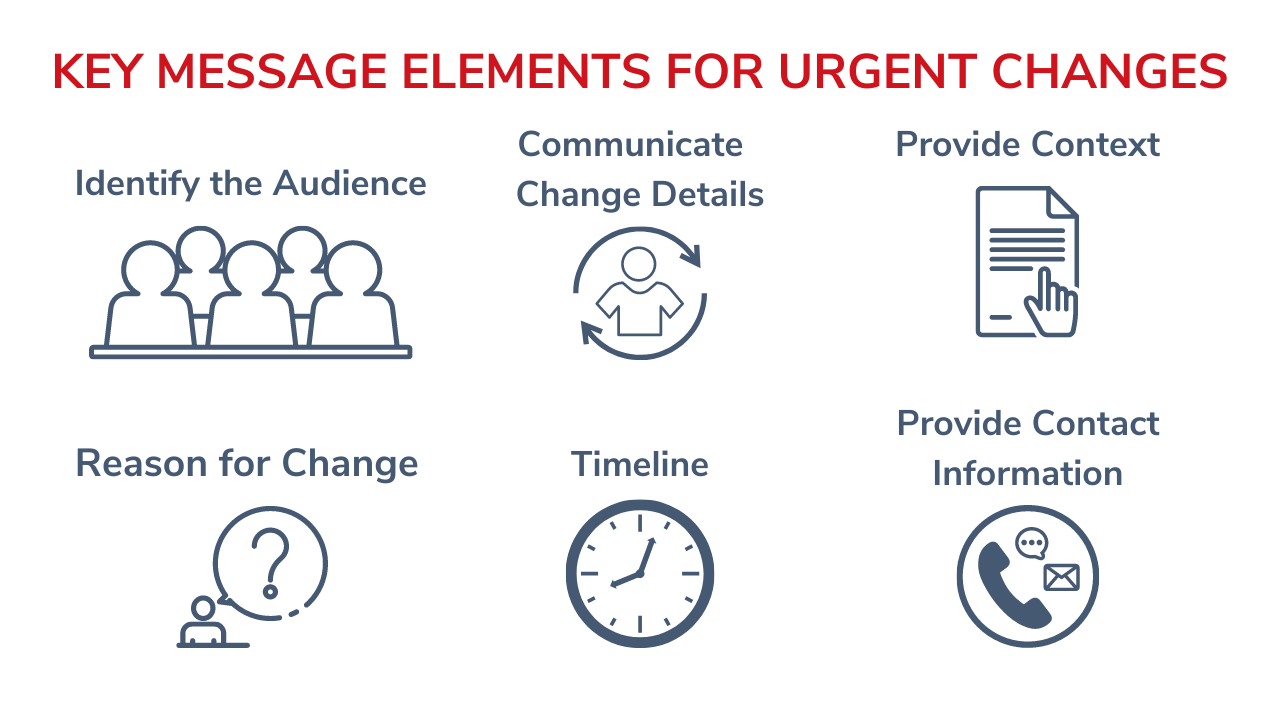 1)  Identify the Audience.
Clinicians and support staff are inundated with messages throughout the day. Many will say that many of the emails and memos they receive are not relevant to them as individuals. For this reason, it's not uncommon for some them to be ignored. To decrease the likelihood of your message being skipped over, call out exactly who the message is for. Identify only users that will need to do something different. Those that will need to perform new actions. As well as those that will need to change behavior to review information in a new way, or new location. You can include other groups may in the distribution, but make sure the target audience identified in the content.
2)  Provide a brief background for context.
Urgent change messages should be brief. To increase the potential for understanding on first review, begin the message with a quick background statement. This will help to place the reader's mindset in the correct context. Ensuring that the details that will follow will make a bit more sense. For example, for a change on documenting patient travel history. Relevant background information may be that the change will apply to all system patient intake points. In the background statement, also state if the change is something net new for the user or if it is an alteration to an existing workflow/practice.
3)  Communicate details of the change.
When communicating the details of the change, you will want to focus on both the current and future state. With clear, focused language that is relevant for the audience. Describe where the change will occur, both within the application and within the process flow. Communicate what actions are currently done. Then provide detailed information on what exactly will change. Make sure the information relates back to the background provided and try not to stray by adding in extraneous content. Including things such as images, diagrams, and reference links can also be helpful.
4)  Summarize the reason for the change.
Once you have provided the details of the change, it is important to provide information on the reasoning. With this, both the purpose of the change and the reason for urgency are relevant. Let the end user know if the change is to fix an existing issue, required for regulatory reasons, or if it is in response to an urgent situation. Adoption of an urgent change can be more challenging if end-users don't understand why it needs to happen. Or why it needs to happen quickly. Users may become frustrated if they suspect the change is occurring so fast because someone forgot to plan things.  You may avoid this by including information on the reason for change and urgency.
5)  Provide details on the timeline.
Another key element in urgent change messaging is the information on timing. Include details on when will the change take place. As well as any relevant actions that surround the implementation period. For example, will the change done in a 'big-bang' format? Or will the change roll out over a short period with specific patients or areas taking priority? Include content on the situation details. Will end-users will be performing the new actions only for patients after the date/time of the change? Or, will retroactive documentation be necessary? (I.e. Will they need to complete documentation for patients who arrived earlier but are still in the facility?) Be sure to also communicate if the change is permanent or temporary.
6)  Include relevant contact information.
It is imperative that the recipients have a point of contact should the have questions. Include information that indicates who they can reach out too. As well as where they can access more detailed content, if applicable. If the changes are evolving, let the audience know when they can expect to hear from you again. Make sure that in line with the contact information, there are individuals assigned to respond to inquiries. These resources should be armed with the necessary knowledge to answer FAQs and to escalate issues/feedback if needed.
Final thoughts...
Drafting urgent change messages may bring forth an initial feeling of overwhelm. Collaborate with colleagues and reach out to leaders for help if necessary. By breaking down the information into the six (6) components above, the messaging should come together easier. Be sure that the focus is on targeted detail and try to use as few words as possible. (Bullet points are an excellent way to communicate details.)
Consider using more than one method of communication to increase visibility. (E.g. email, flyers, briefing calls, rounding, in-person checks, etc.) With each method, be sure the subject line and/or title draws attention. Identify the urgency, target group and topic. Creating templates for these urgent changes can also help with uptake over time as users get used to a consistent format.
Remember - the goal is to get the necessary information out in an understandable way. It is not to draft the perfect piece of literature. Drafting urgent change messaging will get easier over time. Be open to feedback and focus on a guiding principle of transparence and you will be fine.